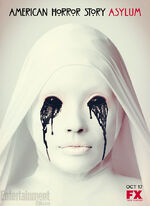 The second season of American Horror Story premieres next week on October 17th, and let it be known right here and now that we shall only refer to this season as Asylum. For those of you not familiar with the show and the nature of the upcoming season, creators Ryan Murphy and Brad Falchuk have decided to make AHS more of an anthology than a series. Whereas Season 1 (now referred to as "Murder House") had a cast of characters in a story revolving around a Victorian home, "Asylum" will have a completely different cast of characters in a story revolving around a creepy sanitarium called Briarcliff Manor. If the first season was the horror version of a family drama, the new season will be the horror version of a workplace drama. The two seasons, as far as we know it, have absolutely nothing to do with each other. However, in another unprecedented twist of show-running, the new season retains many of the same cast members who just play entirely different characters. Jessica Lange, Sarah Paulson, Zachary Quinto, Evan Peters and Lily Rabe are all returning for "Asylum" as new characters.
Who is your favorite returning cast member?
The list of new cast members for "Asylum" is extremely impressive, with a list that includes Adam Levine, Joseph Fiennes, James Cromwell, and Chloë Sevigny. If you want to learn even more about the new season as it approaches or while it's all going down, don't forget that the AHS Wiki has specific pages for theories, spoilers, characters, and Teasers (of which there are over 20). You can click here to watch a 5 minute preview of the new season on Facebook, which includes most of the opening scene. We can't make any good predictions since we can't grasp the story yet, but let's hear what you think about the concept....
How do you feel about AHS becoming an "anthology", with each new season meaning new characters, story lines, and locations?
Tell us what you think about the "Asylum" concept, the new cast, the returning cast, or whatever is on your mind in the comments section below.
Ad blocker interference detected!
Wikia is a free-to-use site that makes money from advertising. We have a modified experience for viewers using ad blockers

Wikia is not accessible if you've made further modifications. Remove the custom ad blocker rule(s) and the page will load as expected.