Greetings, Horrorstorians! We're underway with the spectacle of Freak Show, the fourth superb story. This Wiki needs your help. Last year, I started what I hope to be a tradition: a logo or icon for each story. The elements of that logo were integrated into other facets of the Wiki (like the wallpaper).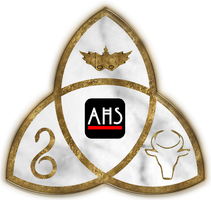 Murder House and Asylum need logos, too. (So do the other stories.) We're going to be using them in new and different ways coming up. This is your chance to shine!
Entries for Murder House and Asylum will be chosen by December 1, 2014 (extended from November 15th). Please continue to submit entries in this space. There are some rules.
Rules
Logos must be larger than 300x300px in their original forms.
They should be related to the story (duh).
They should be able to scale smaller and larger (within reason) so that we can use different elements.
For this contest, the results must not be animated.
Inspiration
For the Coven logo, there are 3 main unique elements. Coven is the third story. Likewise, the Freak Show logo has four tent poles. Bonus points if you can incorporate this type of numerology.
For the Coven logo, three strong women are depicted by use of symbols (Fiona as a mask, Marie as a snake, Delphine as a bull's head). Use of reusable symbols to represent aspects of the story or characters are highly encouraged. (Hint: Asylum, the second story, had two nuns; Light and Dark featured heavily in the teasers and artwork.)
Recurring elements inspired from the teasers are also highly encouraged. The "mouth" for example, features in most of the artwork and teasers for Freak Show. This is reflected heavily in the Freak Show logo.
Please be sure to indicate your entries somewhere, like this post's comments, where they can be found. The winner(s) will also receive, as a personal gift from me, an American Horror Story related item.[1] Ready? Let's get to designing!
↑

Some conditions may apply. Physical or digital prizes may require contact information exchanged outside Wikia, to be used only for this purpose.
UPDATE: Our judges (including a guest judge) are reviewing the entries for each season. Here are the contenders:
Murder House Logo Candidates

| From OGRastamon | From Fe Fi Mo Moody |
| --- | --- |
| | |
Asylum Logo Candidates

| From Fe Fi Mo Moody | From OGRastamon |
| --- | --- |
| | |
Ad blocker interference detected!
Wikia is a free-to-use site that makes money from advertising. We have a modified experience for viewers using ad blockers

Wikia is not accessible if you've made further modifications. Remove the custom ad blocker rule(s) and the page will load as expected.