Today I am here to wish a happy birthday to the most valuable member of the cast of "American Horror Story", the wonderfully talented Jessica Lange. I thank Jessica for having blessed us with his impressive gift. With her I learned to be a good father (Constance) and how to be a good boss (Sister Jude). From the bottom of my heart I hope to learn many other "tricks" with this muse of actresses, until it is no longer possible.
Thank you Jessica, and Happy Birthday!!!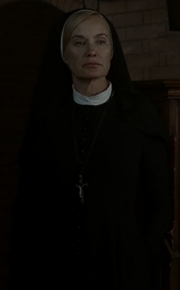 Ad blocker interference detected!
Wikia is a free-to-use site that makes money from advertising. We have a modified experience for viewers using ad blockers

Wikia is not accessible if you've made further modifications. Remove the custom ad blocker rule(s) and the page will load as expected.