American Horror Story Wiki

Other Haunts
Just Google OGRastamon. It's all me. Except for that freak into midget pr0n. You can't prove anything.
I WIN ICON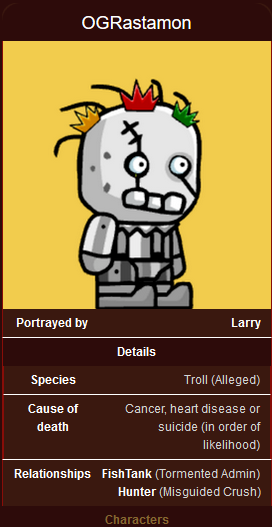 Wiki Wiki Wiki Wiki (Shut Up!)
Quotes
There's no higher power than I except everything else.
Heroes are people who died doing jobs nobody would do if we didn't revere those who died doing it.
The meaning of life is that it has no meaning and that doesn't mean anything.
Name your pet cats and they'll not heed your call. Name your pet peeves and they'll come unbidden.
Any chance that your words will be misinterpreted that is above 0 percent is automatically revalued at 100 percent.
Friends say that other people just don't get my humor. I suspect that this is friend-speak for "You're such an a-hole".
What I Tweets
@GaboureySlDIBE I know big girls need love 2 but Queenie a freak to mount a Minotaur without the help of Chuck Testa. #cryptozoophilia
Discovering that you've unwittingly subscribed to tweets from your favorite porn site...INCALCULABLE!
I'm still holding out hope that Jeff Daniels will find a reliable denture adhesive before the season ends. #TheNewsroom
God has smite more people for head use than head giving but the Phelp's family couldn't fit GOD HATES FREE THINKERS on their signs.
When at war, if you're caught having sex with an enemy soldier, receiving a dishonorable discharge takes on two meanings.
Joss Whedon creates a show starring Christian Slater, Will Arnett and Ted McGinley. The following week all TV shows are canceled FOREVER.
Subpages and Links
Special Tools
MediaWiki
   Automated Chat Messages
   Chat-user-joined  Chat-user-parted  Chat-welcome-message
   Community Messages
   Community-corner  Communitymessages-notice-msg  Description
   Dropdown Menus
   MediaWiki:Deletereason-dropdown
   
   MediaWiki:Editor-template-list
   MediaWiki:Edittools
   MediaWiki:Emoticons
   MediaWiki:External_image_whitelist
   MediaWiki:Filedelete-reason-dropdown
   MediaWiki:Forum-policies-and-faq
   MediaWiki:Global-navigation-local-search-placeholder
   MediaWiki:Ipboptions
   MediaWiki:Ipbreason-dropdown
   MediaWiki:Licenses
   MediaWiki:Mainpage
   MediaWiki:Moveddeleted-notice
   MediaWiki:Newarticletext
   MediaWiki:Noarticletext
   MediaWiki:Pagetitle
   MediaWiki:Photosblacklist
   MediaWiki:Protect-dropdown
   MediaWiki:Recentchangestext
   MediaWiki:Sidebar
   MediaWiki:Sitenotice
   MediaWiki:Sitenotice_id
   MediaWiki:Talkpagetext
   MediaWiki:Titleblacklist
   MediaWiki:TitleBlacklist
   MediaWiki:Uploadtext
   MediaWiki:User-identity-box-group-adminmentor
   MediaWiki:User-identity-box-group-authenticated
   MediaWiki:User-identity-box-group-blocked
   MediaWiki:User-identity-box-group-bureaucrat
   MediaWiki:User-identity-box-group-chatmoderator
   MediaWiki:User-identity-box-group-council
   MediaWiki:User-identity-box-group-founder
   MediaWiki:User-identity-box-group-helper
   MediaWiki:User-identity-box-group-staff
   MediaWiki:User-identity-box-group-sysop
   MediaWiki:User-identity-box-group-threadmoderator
   MediaWiki:User-identity-box-group-voldev
   MediaWiki:User-identity-box-group-vstf
   MediaWiki:User-identity-box-group-wikiastars
   MediaWiki:Userrights-groups-help
   MediaWiki:Welcome-bot-flag
   MediaWiki:Welcome-enabled
   MediaWiki:Welcome-message-anon
   MediaWiki:Welcome-message-user
   MediaWiki:Welcome-message-wall-anon
   MediaWiki:Welcome-message-wall-user
   MediaWiki:Welcome-user
   MediaWiki:Welcome-user-page
   MediaWiki:Wiki-navigation