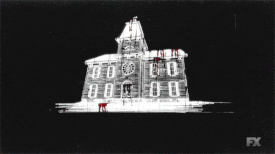 "Return to Roanoke: Three Days in Hell" is a made-for-television reality show series and a sequel to the successful My Roanoke Nightmare. The show was planned by producers but never aired on television due to its disturbing content, as all but one participant were killed during filming.
Participants
Official:
Unofficial:
Ghosts:
Crew Members
Notes
Many actors who appeared in My Roanoke Nightmare did not appear on this sequel.
Along with Lee Harris, Audrey Tindall survived long enough to reach the end of the Blood Moon, but was shot down by police when she attempted to kill Lee.
Ad blocker interference detected!
Wikia is a free-to-use site that makes money from advertising. We have a modified experience for viewers using ad blockers

Wikia is not accessible if you've made further modifications. Remove the custom ad blocker rule(s) and the page will load as expected.