Open House is the seventh episode of the first season of American Horror Story. It was first broadcast on November 16, 2011 on FX in the United States.
Synopsis
Edit
Constance and Larry attempt to keep Moira from finding a buyer for the Murder House.
1994
Constance
is talking to
Larry
. The party on the other end is going to remove her child,
Beau
, and place him in an in institution. Constance pleads with Larry (who professes his love), to do as they discussed. Beau, in the attic, plays ball with Larry before Larry puts him to bed. Larry then tries to smother him with a pillow.
2011
Ben and Vivien wait in Dr. Hall's office for the amniocentesis results, which show that she's having perfectly healthy, normal twins.
Marcy
is showing the house to
Joe Escandarian
. He wants to replace the gazebo with a swimming pool, at
Moira
's bidding. He wants to know what's wrong with the house, and Vivien soft-pedals the previous deaths. As Moira shows him around, Vivien and Marcy fight about revealing too much of the house's history.
Sometime after, Vivien is in bed pleasuring herself with a vibrator. While climaxing, she fantasizes about Luke and Ben and Rubber Man interchangeably.
Violet is back to cutting herself before Tate intervenes asking her what she thinks she's doing. He licks of the blood from her wrists. He makes her agree to stop cutting. Later, in her room he asks her about whether she believes in ghosts and the afterlife. He says that he believes in ghosts and that Violet, should she die, would move on to a "better place". Violet asks why he doesn't believe in the afterlife for himself and Tate states that this "better place" is with Violet, since she arrived in the house.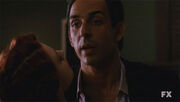 him that she would paint it red and install a sex swing if she were him. She then gives him a blowjob, stating that "Persian men" are 'known' to be 'well-endowed'. He corrects her; he's Armenian. After getting pleasure from Moira in Violet's room, they run into Ben in the hallway, who is picking up some of his clothes. Ben tries to give Joe a quick pitch, but Joe isn't interested in the house. He plans to bulldoze the house and convert the land into condominiums. Moira is just out of earshot, when Joe reveals his plans to Ben.
Flashback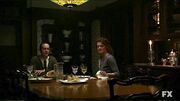 Larry tells
Lorraine
that he has fallen in love with Constance. He tells her that to avoid problems she and their daughters should move back with her mother in Ohio and that he'll always provide them with money and occasionally visit. The final breaking point comes when Larry tells her he plans to move Constance back into the house with him. Upset about the news, Lorraine leaves the table. When Larry pursues her, he finds a room on fire, with presumably his wife and children inside.
2011
Ben tells Larry about Joe's plan to demolish the house, and Larry is not pleased with the news.
The Eternal Darkness Tour covers the Nicole Brown Simpson murders, before arriving at Murder House. Stan reveals that he remembers Vivien, and that she is the current owner.
1926
Thaddeus
is the Montgomery child's name, and
Charles
tells
Nora
that he is waiting upstairs in the nursery for her. Nora cautiously goes upstairs to a draped crib, but Thadeus is across the room. A disturbed Nora comes back down to ask about Thaddeus' resurrection. He "
used the beating heart of one of our girls
". Nora reveals the baby is now bloodthirsty, as she tried to breastfeed her child which bit and clawed at her instead. She tells her husband she attempted to stab it to death with a letter opener, which unsettles him. To calm him down, she tells him she's proud of what he's achieved, which brings him to tears of joy. As Charles falls to his knees and hugs Nora in joy, she draws a revolver and shoots him in the head before shooting herself as well.
2011
Stan reveals that there were more murders to come.
Vivien goes back to the doctor for a checkup. She mentions to Dr. Hall that the vitamin B-6 isn't helping. She seems to be getting sick whenever she leaves the house. Dr. Hall suggests maybe that's a sign she needs to stay home and not overexert herself. Vivien wants and asks for additional tests.
Maria
arrives, but Violet successfully tells her to go away.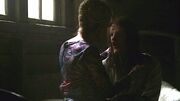 Constance and Moira verbally spar. Moira is happy that Constance is crying and unhappy for once unaware of the reason. Constance leaves to look for Tate. When she finds him, he is angry with her. He walks away, and she looks for Beau in the attic. She has come to say goodbye to him, and says that everything is over. On her way out, Constance tells Moira that Joe is going to seal Moira's tomb, not unearth her remains. They agree to unite and take care of the problem.
[1]
Featured Character
Edit
Joe Escandarian
Edit
Joe Escandarian
Portrayed by
Amir Arison
Species
Human (deceased)
Cause of Death
Smothered with a plastic bag
Occupation
Real-estate developer
Relationships
Moira (lover)


Constance (enemy)
Larry Harvey (killer)

Joe Escandarian is a guest character on American Horror Story. He is an Armenian-American real estate developer who was interested in buying the Harmon's home with the intent of tearing it down and building several affordable housing units. He comes from a wealthy Armenian family who moved to California when he was two.[2]Joe is tall, well-built, and wealthy with a taste for neat, elegant clothes. He iss self-confident and straightforward towards other people, acting and speaking his mind in a rather bold kind of way, without showing any embarrassment.
After Vivian places the house on for sale, Joe originally seems to be interested in the low priced but lavish house. He is instantly attracted to Moira's younger form. Moira seductively tries to convince him to built a swimming pool in the backyard, but Vivian doesn't see anything wrong, as she only sees her eccentric old maid Moria sharing her opinion. Later on, when the Harmons are not at home, Moira gives him a tour and leads him to Violet's room. She seduces him and performs oral sex on him. While Moira is not within earshot, Joe tells a recently-arrived Ben that he is turning the lot into housing units. Later, however, after Constance tries to convince him not to tear down the house (as it could ruin her connection to her son Beau), she finds out about his plan and reveals it to Moira.
Once Moira discovers his plans of destroying the house, she teams up with Larry and Constance to lure Joe into the basement where they ambush him. While performing oral sex, it is implied that Moira castrates him with her teeth (or bit him to the point that a large amount of blood circles her mouth) before being strangled with a plastic bag. Constance tells Larry to make sure he dies off property so she doesn't run into him.

Guest Stars
Edit
The opening credits feature a man asphyxiating with a plastic bag over his head in the basement (Mr. Escandarian). This is another clue from the Opening Credits resolved.
Larry is particularly taken by a fireplace. On the Family Portrait website and video, he steps out burning from a fireplace into the room.
Alexandra Breckenridge on the scene in which she bites off Mr. Escandarian's penis: "Originally we shot a sequence where I spit out the tip. We used the top of a banana. It was a bloody banana. I had to do take after take after take. It was awful. I'm ruined on bananas. I could never eat them again. It was terrible. It was not cute. I haven't had a banana since." [3] The plastic penis that was supposed to be shown in the episode can be seen in the "Making Of" video (see below).