Hayden McClaine is a 22 year old student and mistress of Ben Harmon. She first appeared in "Home Invasion", but was referenced off-screen in "Pilot", when Vivien walked in on her and Ben having sex. She was murdered by Larry Harvey, who killed her to keep the fact she was pregnant with Ben's baby a secret from Vivien.
Background
Edit
Hayden was a 21-year old student of Ben Harmon's in Boston. Ben sought comfort in Hayden after Vivien miscarried and became distant. Vivian discovered the affair and in an attempt by Ben to "start over" with his family, he ended things between him and Hayden, and moved his family into the Murder House in Los Angeles. As a result of their liaisons, Hayden became pregnant with Ben's child.
Personality and Appearance
Edit
She has shown to be emotionally unstable and vindictive, being very easily angered, and she shouts and cries quite suddenly[1]. However, there are times where she seems to be kind and sympathetic, crying as she plays with Beauregard, and comforting an upset Nora.
In appearance, Hayden has a petite build, auburn hair, and honey-brown eyes. When seen as a ghost, she is bleeding from the mouth in what seemed to be an attempt to gain sympathy from Ben. Currently, she bears the bruises of the shovel that killed her.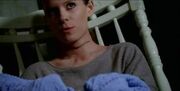 Episodic Appearances
Edit
Hayden now shares a grave with Moira. Hayden will now reside as a ghost in the house, as anyone who dies in the house or on the property cannot leave
To Ben: "I'm not a whore, Ben! I matter!"

To Vivien: "He said that, in-between my thighs, I tasted like raspberries and cream."

To Constance and Moira: "Hey, bitches, you get all that slime off my baby yet?"

To Vivien: "I want what's in your womb."

To Tate: "Why does being dead make me so horny?"

To Tate: "Grow a pair. She's not into you."

Her weapon is an ice pick.