Cast Page

This article is about a cast member. Where possible, this should be written to the

Wikipedia

standard and merged there.



This article

may require copy editing for grammar, style, cohesion, tone, or spelling

. You can assist by

editing it

.
Evan Peters (born January 20, 1987) is an American actor. He portrayed Tate Langdon on American Horror Story during Season 1, and portrayed Kit Walker in Season 2. He has been confirmed to return with an all-new role in Season 3.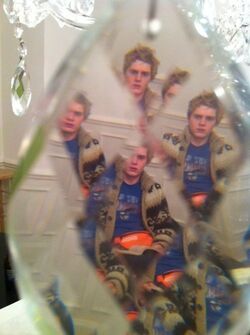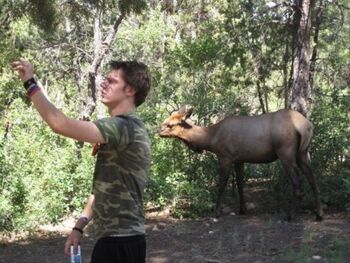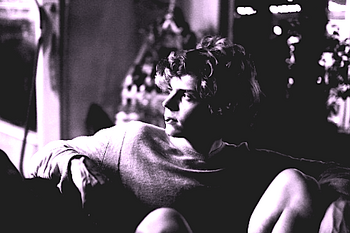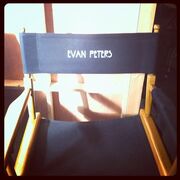 Missouri roots
Edit
Evan Thomas Peters was born in St. Louis, Missouri, to Phillip Henry and Julie Ann Peters. He attended St Joseph Catholic School in Manchester, Missouri.
Michigan
Edit
He started acting a bit when his family moved to Grand Blanc, Michigan, in 2001, because his father took a new job there. Evan attended Grand Blanc High School. In 2002, when Peters was 15 years old, he got obsessed with the Olsen Twins and wanted to meet them. He decided the best way to do that was to become an actor. He enrolled in a local talent agency in Michigan and took some acting classes. There the local Grand Blanc photographer Bob Lamb saw him. Bob Lamb took pictures of Evan for his book "American Boy" and put him on a tape for agent Craig Wargo in Burbank, California. "American Boy" has been pulled from the shelves. It features i.a. highly sexualized images of young boys, some partially nude. In 2006, Bob Lamb was convicted of possession of child pornography. He served 2.5 years in prison.[1] He was released in 2010. There have been stories of indecent behavior towards some of the boys he photographed.
Craig Wargo told Peters to move out to Los Angeles and audition. Craig was Evan's manager for several years. He died in 2004, at age 48, of liver disease. [2]
At an American Model and Talent Conference in Florida, Peters won a number of acting awards, and his mother, Julie, who accompanied him, received a lot of advice. "Everybody seemed to think he had something," she said. The family flew to California for a combination vacation and get-info-for-Evan trip, following Craig's advice.
Hollywood (a.k.a Burbank)
Edit
In one week, Evan Peters signed with a manager, Craig Wargo, and an agent (he was signed by Innovative Artists Agency) and began auditions.
Clipping Adam Edit
On just his second audition, he was picked by producer Michael Picchiottino for the role of Adam. Evan said the selection was a "stroke of luck." Another stroke of luck for him was the selection of the rest of the cast. Many were veterans, including Oscar-winning Louise Fletcher to be his grandmother. Ms. Fletcher won an Oscar for her role in "One Flew over the Cuckoo's Nest," with Jack Nicholson. "Clipping Adam" took 26 days to shoot. Evan said they were the toughest days of his life. "After all, this was the first time I was ever in front of a camera on stage," he said. But, he added, "I soaked up as much experience as I could." The title of the movie refers to Adam's refusal to cut his very long hair. In the film, Evan had to use hair extensions. The role in "Clipping Adam" earned him a Screen Actors Guild Emerging Actor award at the St. Louis International Film Festival, Jury Award-Best Actor at the Eclipse Film Festival in St. George, Utah, Best Young Actor at the Down Under International Film Festival in Darwin, Australia, and Best Breakthrough Performance at the Phoenix Film Festival.[3]
The Home School- Audition Years Edit
His parents -- father Phil is vice president of administration for the Charles Stewart Mott Foundation, which fights poverty and aims to curb immigration -- decided to give Evan a year to pursue acting in California. "The talent manager said that a year was enough time to know if he could succeed or not," his father said. "The commitment was they (Evan and Julie) would give it a year." Phil Peters stayed home. The couple's oldest son, Andrew M. Peters, attended the University of Michigan, and daughter Michelle lived in St. Louis. "It was a busy year," Julie Peters said. "He got that movie, then a commercial for Sony PlayStation, four or five episodes of 'Phil of the Future,' and they just kept coming.
Asked about his time in California in 2003, 16 at the time, said, "I love it. But I love [St Louis joint] Imo's Pizza." A typical California working day back then consisted of getting up, going to the set and then three hours of school work. He is taking part in a Options for Youth home-schooling program. Evan said back then that his back up career choice would be to become a meteorologist.
At the end of two years, he was able to pitch in and pay for some of the bills. I kept saying, 'Do you really want to do this?'" He spent his sophomore year at Burbank High School, but with the pressure of auditions increasing, decided to home-school with his mother and earned his high school diploma.
He's attempted college classes, but his schedule makes it difficult. "I've started and had to drop with all the auditions -- it's just too hard right now," he said. Evan's mother lived with him in Burbank until he turned 21 years old (2007). Peters still lives in Burbank.
He's done television and film, and said he enjoys both. He's still taking acting classes -- "Gotta keep the machine oiled," he said. His youthful looks will keep him tied to high school-age characters for at least a few more years.

Living in California has produced culture shock for this Midwesterner. It's been important to get home for visits. "It helps me get centered again," he said. "It's absolutely bonkers out here."
As for meeting the Olsen twins, he had his chance a few years ago when he was invited to the premiere of the twins' movie "New York Minute." "I got to the premiere, and they were there, and I started sweating and freaking out and froze. I couldn't meet them. I blew it," he said. But he's happy doing what he's doing. "I love it," he said. "I think if I'm at 30 or something like that, if I'm a bum, eating ketchup packets, that's when I'll probably go back to college," he said. "For now, I'm just chilling. Living the life. Living the dream."[4]
Past roles
Edit
Initially, Evan Peters mostly landed TV commercial spots, including Sony Play Station, Progressive Insurance, Moviefone, Sour Patch Kids, Papa John's Pizza and Kellogg.[5]
Taking it one year at a time, Peters would audition and continue to land promising rolls in MGM's Sleepover, Disney's Phil of the Future and a starring role in the ABC series The Days. Peters also landed a role in the ensemble cast of ABC's sci-fi thriller series Invasion. Supporting roles in films such as Gardens of the Night, An American Crime, Kick-Ass and Never Back Down (1+2), and guest starring roles on The Mentalist, House, Monk, The Office, In Plain Sight and Parenthoodhave showcased Peters' comedic diversity and dramatic depth. He has also starred in several theater plays, including playing Fagin in a production of Oliver Twist at the Met Theater.
Peters maintains that the best way to stay in this business is "to have a good work ethic, aesthetic sensibility, and a good sense of humor... Russell Crowe said that and he's awesome. Throws phones and stuff."[6]
Evan on his role as Tate
Edit
Evan's explanation of his role on G4: "I boned her mom." [7]
How did it feel wearing the gimp suit?
Peters: It's one of the most uncomfortable things I've worn in my life. It's latex, not thick rubber, and you're on a soundstage, so it's absolutely freezing. It's also very tight in the crotch area, so it's hard to sit down and stand up.
One of the first things we see Tate do is beat up Violet's bully by tag-teaming with the thing that lurks in the basement. How exactly does that relationship work?
Peters: Tate gets help. He sort of asks these spirits in the house for help and they oblige, which is pretty sweet. [8]
"With Tate you're never sure whether he will kiss or kill you." [9]
"Piggy Piggy" was the first episode Evan actually watched. He had not seen a completed episode before.
Evan supports the St Louis Blues hockey team.
Evan wears glasses/contact lenses.
Evan has a "MOM" tattoo on his shoulder that had to be covered up for the shirtless bed scene with Taissa/Violet. He has a second smaller red tattoo on his hand - a thumb-up sign, which can be seen in several scenes during the series.
His favorite book is Huxley's "Brave New World".
Evan is Catholic.
Evan's current dog (see pictures) is called Marlon.
Evan swing dances.
"In my spare time, I've been playing a lot of piano. I'm trying to learn classical piano, Mozart and Beethoven and stuff. I took lessons when I was younger and now I sort of sight read the music and play it by ear. It's fun. It takes up a lot of time. I practice a couple of hours a day, but I find it soothing." [10]
Evan was among the last round of five actors to test for the role of Peeta Mellark in Hunger Games, together with his Sleepover buddy Hunter Parrish, but lost out to Josh Hutcherson in the end. [11]
In 2005, Evan Peters filled out the following questionnaire on

MySpace

:
"Fav Music - Dave Matthews Band, Coldplay.
Fav TV - I don't have enough time to watch that.
Fav Books - My Dic.
Body type - More to love
Activities - I skateboard and play guitar. I like playing frisbee on the beach with my dog Fido. I am a model."
Past girlfriends include the Brit Pixie Geldof (Bob Geldof's daughter), coincidentally lead singer of a band called Violet, and Alexandra Breckenridge, the actress who plays Young Moira. [12] He has been in a relationship (with one break) with fellow actress Alexia Quinn since spring 2011. They both were in a theater play that was only shown twice. He is now in a relationship with Adult World co-star Emma Roberts
Evan used to live together with his Phil in the Future co-star Raviv Ullman and The Veronicas' singer Lisa Origliasso, who is Australian. Lisa Origliasso and Evan (video 2) were in a relationship. Lisa was later engaged to Evan's co-star in "Never Back Down 2", Dean Geyer, in 2008. [13]
He sometimes used to rap in the old band of Raviv Ullman, the "WeeBee Boys". He later, in 2011, made electronic music with a friend of his.
Picture Gallery
Edit