Constance Langdon
Comments

75
233pages on
this wiki
Constance Langdon[1] is the next-door-neighbor of the Harmons and a major recurring character in American Horror Story (according to the show's creator, Ryan Murphy, she could even be considered a "third lead"). She was married to Hugo[2] and is the mother of Adelaide, Tate, Beauregard and one other unknown child. She is also the grandmother of Michael, but adopted him as her own child to protect him from the malicious spirits which reside in the Murder House.
Background
Edit
Constance was born and raised in Virginia, but moved to Los Angeles to become an actress. After objecting to the nudity that was flooding the film industry at the time, her dreams of becoming an actress fell to the wayside. In 1983, she murdered both her husband, Hugo, and Moira O'Hara (with whom Hugo has cheated with once before) after catching them about to have sex, believing they were having an affair, when in reality, Hugo was trying to rape Moira (who tried to refuse his advances).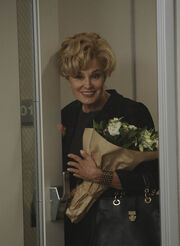 Personality
Edit
She purports to be gentle and goodnatured but is really cunning and rude. She cares very much for her children, even though she sometimes doesn't treat them as well as she should. She also runs a daycare for dogs out of her home. She has stolen Vivien's jewelry and silverware in an attempt to frame Moira. Despite this, it appears that she and Moira are involved in some sort of plot involving Vivien's pregnancy, as she brings over assorted innards of pig for Vivien, claiming the organs are "good" for the baby. She may also have some precognitive ability, for example: she entered the house in the middle of the night and keeps Ben from injury during the Pilot and the toxic cupcakes she delivered for Violet actually ended up making one of the intruders violently ill during the home invasion.
Appearances
Edit
"Pilot": Constance introduces herself to the Harmon's as their next door neighbor. She also raids Vivien's jewelry box and is caught by Moira, though Moira does nothing about it.
"Home Invasion": Constance bakes two large cupcakes, ostensibly for Violet, adding ipecac syrup to the batter. She spends some time with a handsome young man named Travis. She later assists Tate and Moira in disposing of the dead R. Franklin murder reenactors.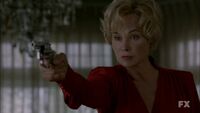 Constance Langdon: "(To Ben) Shh. It's not your time yet. Go back to bed."

Constance Langdon: "(To Vivien) I'm a good christian, but Jesus H. Christ..."

Constance Langdon: "

(

To Moira) Don't make me kill you again."

Constance Langdon: "(To Moira) Everytime I find my heart break in just a sliver for you, I suddenly remember; You brought this all on yourself."

Constance Langdon: "(To Vivien) He was a model of physical perfection. He was my gift. But I lost him to other things."

Constance Langdon: "(To Violet) They say when a parent dies, a child feels his own mortality, but when a child dies, it's immortality that a parent loses."

Constance Langdon: "(To Violet) He's a sensitive boy, you know that; A young man with too deep feelings, the soul of a poet, but none of the grit or steel that acts as a bulwark against... these horrors of this world."

Constance Langdon: "(To Violet) I questioned my sanity when I first found out, but this house will make you a believer."

Constance Langdon: "(To Vivien) We need that baby. We need another...sweet child."

Constance Langdon: "At the end of the day... he meant less to me than dog shit."

Constance Langdon: "(To Chad) Why can't you people just be content with having pets? Why must you subject an innocent child to your perversions?"

Constance Langdon: "(To Billie Dean) Well that's all nice and dandy, but what about the gays I mean, how do we get rid of them?"

Constance Langdon: "(To Moira) There's not gonna be any swimming pool you stupid slut!"

Constance Langdon: "(To Larry) Even dead, even a boy, he's twice the man you are."

Constance Langdon: "(To Detective Granger) I have grieved enough for two lifetimes. Most people would be broken by the deaths of their children, but my nature would not permit such weakness."

Constance's kitchen was used as a set for Ryan Murphy's other show, Glee. It was the kitchen of Santana's grandmother.
Although Constance stated that she had four children, a fourth child was never revealed. However in an recent interview with Tim Minear, it was revealed that there was supposed to be a mention of it in Constance's beauty salon speech in the final episode, but it was cut.
Murphy stated that Constance was to have an albino child in his commentary on the pilot episode.
See the separate Theories page however: A subpage for Theories is available here.