The opening credits were created by Kyle Cooper and his company Prologue, who also created the opening scenes for Seven and The Walking Dead.
Ryan Murphy said about the opening credits "The title sequence is almost like a mystery. By the time you see the ninth episode of this season, every image in that title sequence will be explained. So for example, What are the jars in the basement? What is the mystery of the floating white Christening dress? Why is somebody holding hedge clippers that are bloody? Each time you watch it and you watch the week's episode you'll be able to say, 'Oh that's why that's in there!'"[1]
Charles Rennie Mackintosh
. Ryan Murphy had wanted "
Frank Lloyd Wright
" font, after the American architect famous for his use of stained glass. Since Frank Lloyd Wright was influenced by Charles Rennie Mackintosh, the Prologue company suggested the Mackintosh font.
Kyle Cooper shot the basement scenes in the sub-basement of Mack Sennett Studios in Silverlake, California, a soundstage originally built in 1916. He decided to shoot the entire opening credits in the basement to provide the view of the infantata, who lives in the basement. The old pictures of children were included to show past owners who watched everything with innocent eyes.[2]
The song in the background was created by Cesar Davila-Irizarry, who is a friend of "Prologue" editor Gabriel Diaz, and musician Charlie Clouser, formerly of Nine Inch Nails and is called "American Horror Story". The song also gives clues to the show, for example the ambient noises and the sound of dripping water along with a menacing voice whispering what sounds like "Hurt you", adapted by Lady Gaga for the trailer of American Horror Story: Hotel. (Maria).
Murder House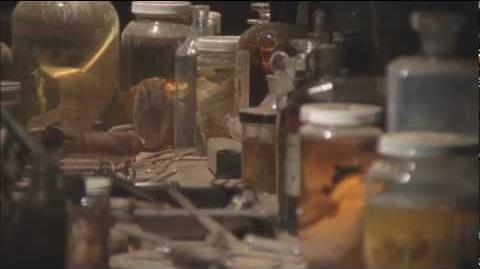 Imagery featured in the Opening Credits are:
Asylum
Coven
Freak Show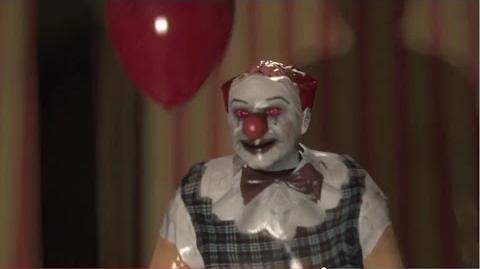 Hotel
References
↑ Clues in American Horror Story Haunting Opening Credits, The Ossuary, Best-Horror-Movies.com, 28-9-2011, http://ossuary.best-horror-movies.com/m/news/view/89162/-Video-Clues-in-American-Horror-Story-Haunting-Opening-Credits
↑ "Main Title design: American Horror Story", Brief. The International Journal of Media Marketing, Promotion and Design, Fall 2011, p. 64, 28-9-2011, http://www.scribd.com/doc/69750568/Top-Chef-Just-Desserts
Ad blocker interference detected!
Wikia is a free-to-use site that makes money from advertising. We have a modified experience for viewers using ad blockers

Wikia is not accessible if you've made further modifications. Remove the custom ad blocker rule(s) and the page will load as expected.