American Horror Story
is a horror-drama television show created and produced by
Ryan Murphy
and
Brad Falchuk
. It is an anthology, with each season taking place in a new setting. The series is broadcast on FX Networks and premiered on October 5, 2011. The
Pilot
garnered the best ratings FX had ever seen for a series premiere and its popularity continued to rise with the
second season premiere
marking the show's highest numbers at the time
[1]
. The pilot episode of its fourth installment,
Freak Show
, broke FX ratings records when it drew in roughly 12.64 million views.
[2]
The show has received positive reactions from critics and fans alike. It has received several nominations for Primetime Emmy Awards under the miniseries category
[3]
.
Conception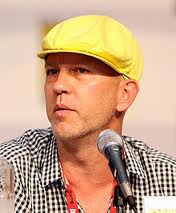 Creators Murphy and Falchuk began working on American Horror Story before their Fox series Glee began production. Murphy wanted to do the opposite of what he had done previously and thus began his work on the series. He stated, "I went from Nip/Tuck to Glee, so it made sense that I wanted to do something challenging and dark. And I always had loved, as Brad had, the horror genre. So it just was a natural for me.[4]"
Falchuk was intrigued by the idea of putting a different angle on the horror genre, stating that their main goal in creating the series was to scare viewers. "You want people to be a little bit off balance afterwards," he said. The dark tone of the series is modeled after the ABC soap opera Dark Shadows, which Murphy's grandmother forced him to watch when he was younger to toughen him up[5].
Murphy and Falchuk drew inspiration from real life crimes. Murphy noted tour buses that go by Sharon Tate's house and clubs devoted to murder re-creations. He stated that the series explores people's general obsession with crime and murder. "It's a way to circumvent your own anxiety in very anxious times," he said. "In times of economic anxiety, if you look at the template, two genres flourish: horror and musicals. I think people want to either be scared or completely forget about their troubles. As we go further into the series, we get into the economic anxieties.[6]"
Murphy's other inspiration for the show came from the AMC series
The Walking Dead
, which premiered in 2010. He called it "the greatest TV viewing experience" of his life that year. Falchuk noted that American Horror Story's scariest moments to him come from the emotional drama that the Harmons must contend with, as opposed to the violent scenes
[7]
.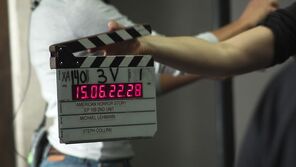 In February 2011, FX officially announced that it had ordered a pilot for a possible series from Ryan Murphy and Brad Falchuk, with both Murphy and Falchuk writing and Murphy directing. Dante Di Loreto was announced as executive producer. Production on the series began in April 2011. In July 2011, FX officially announced the project had been picked up to series[8].
Critical Reception
The show has received very varied responses, verging from the enthusiastic to complete rejection from critics. Ken Tucker from Entertainment Weekly gave it a score of B+[9] Chuck Barney of the San Jose Mercury News said "Most TV shows, after all, quickly fade from memory. This one will haunt your dreams." However, some critics, such as Alan Sepinwall, feel that the show just has scenes and sounds that people will want to forget[10]. Some critics gave mixed reviews, such as Mary McNamara of The Los Angeles Times who said  "Because even with all the zombies and vampires, there is always room for a good "American Horror Story". The first season scored a 62 out of 100 from the review site Metacritic  from 30 reviews by critics.
Production
From the beginning (though obscured from the viewers), Murphy and Falchuk planned that each season of the series would tell a different story. After the first season finale aired, Murphy spoke of his plans to change the cast and location for the second season. He did say, however, that some actors who starred in the first season would be returning. "The people that are coming back will be playing completely different characters, creatures, monsters, etc. [The Harmons'] stories are done. People who are coming back will be playing entirely new characters," he announced. Although there is a new story with every season, there are still actors who appear in the new story, with a new character. They are usually called repeating players. The only players to appears in all six seasons are: Sarah Paulson, Evan Peters and Lily Rabe. There are also players who have made more than one appearance in a single season but have not appeared in all of them, such as: Jessica Lange, Frances Conroy, Kathy Bates, Angela Bassett, Denis O'Hare, Zachary Quinto, Dylan McDermott, Taissa Farmiga, Jamie Brewer, and Alexandra Breckenridge.
Production for the show began in February 2011, with Ryan Murphy and Brad Falchuk generally composing the show.
[citation needed]
Casting began in late March and extended to late May, with the first cast member being
Connie Britton
as
Vivien Harmon
,
Denis O'Hare
as
Larry
, and
Dylan McDermott
as
Ben Harmon
. In April,
Jessica Lange
joined as
Constance
, and
Taissa Farmiga
and
Evan Peters
were cast as
Violet Harmon
and
Tate Langdon
, respectively.
Alexandra Breckenridge
and
Frances Conroy
were later cast as
Moira O'Hara
.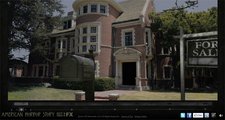 The actual '
Murder House
' used in Season 1 is called the
Rosenheim Mansion
and has been used in various TV shows and movies such as Buffy the Vampire Slayer, Ghost Whisperer, Spiderman etc.
The second miniseries premiered on October 17, 2012 and ran for thirteen episodes.
A third story was announced on November 15, 2012.[11] It was announced at the 2013 PaleyFest panel that the story title would be "Coven".
Jessica Lange was the first actor announced to be remaining in the troupe.[12][13] Lily Rabe, Sarah Paulson and Evan Peters were also announced to be joining Jessica for season 3. Kathy Bates, Frances Conroy and Taissa Farmiga were also announced as part of the cast. Ryan Murphy teased actors from season 1 reprising a role for season 3 as well.[14] Later Gabourey Sidibe, Patti LuPone, Angela Bassett, and Emma Roberts were confirmed to have joined the cast. Denis O'Hare, who played Larry Harvey, was also added to the cast of Coven, and Alexandra Breckenridge, Jamie Brewer, Christine Ebersole  and Grey Damon were seen in pictures or announced soon after.
The cast was named one of EW's Entertainers of the Year in November 2013.[15]

A fourth story was announced on November 6, 2013, which featured 13 episodes. It was announced on Ryan Murphy's Twitter account on March 24, 2014 that the story title was "Freak Show."[16]
Lady Gaga first announced the fifth story's name "Hotel" on February 25th, 2015 by publishing a short promo on her Twitter account.
During PaleyFest of that year, it was announced that Matt Bomer and Cheyenne Jackson would co-star.
Afterwards, more series regulars were confirmed, including Sarah Paulson, Evan Peters, Kathy Bates, and Angela Bassett. Chloë Sevigny, who starred in Asylum, will return to the series for Hotel. On May 25, 2015, Ryan Murphy announced that Max Greenfield would also be joining the cast.
Emma Roberts and Denis O'Hare were also added to the cast list. It was announced that Roberts would be starring in a few episodes before the finale to do "something special" with her ex fiancé Evan Peters. However, Roberts was ultimately unable to take part in the fifth season due to the demands of Roberts' existing schedule.[17]
Episodes by Crew
Murder House
Asylum
Coven
Freak Show
Hotel
Roanoke
Cult
| Episode | # | Premiere | Writer(s) | Director |
| --- | --- | --- | --- | --- |
| Election Night | 1 | September 5, 2017 | Ryan Murphy & Brad Falchuk | Bradley Buecker |
| Don't Be Afraid of the Dark | 2 | September 12, 2017 | Tim Minear | Liza Johnson |
| Neighbors From Hell | 3 | September 19, 2017 | James Wong | Gwyneth Horder-Payton |
| 11-9 | 4 | September 26, 2017 | John J. Gray | Gwyneth Horder-Payton |
| Holes | 5 | October 03, 2017 | Crystal Liu | Maggie Kiley |
| Mid-Western Assassin | 6 | October 10, 2017 | Todd Kubrak | Bradley Buecker |
| Valerie Solanas Died For Your Sins: Scumbag | 7 | October 17, 2017 | Crystal Liu | Rachel Goldberg |
| Winter of Our Discontent | 8 | October 24, 2017 | Joshua Green | Barbara Brown |
| Drink the Kool-Aid | 9 | October 31, 2017 | Adam Penn | Angela Bassett |
| Charles (Manson) in Charge | 10 | November 7, 2017 | Ryan Murphy & Brad Falchuk | Bradley Buecker |
| Great Again | 11 | November 14,2017 | Tim Minear | Jennifer Lynch |
Executive Producers
Ryan Murphy
Brad Falchuk
Dante Di Loreto
Tim Minear
Directors
Writers
References
Ad blocker interference detected!
Wikia is a free-to-use site that makes money from advertising. We have a modified experience for viewers using ad blockers

Wikia is not accessible if you've made further modifications. Remove the custom ad blocker rule(s) and the page will load as expected.